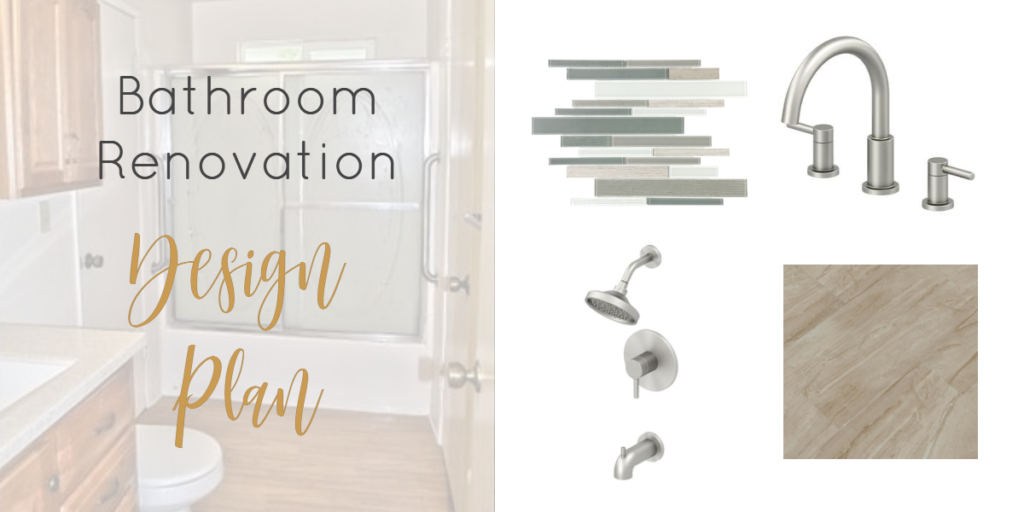 A good design plan can come in handy when getting ready to tackle any home renovation project. It can save you time, keep you organized, and pretty much keep you sane! Today I want to talk a little bit about a renovation project I have coming up. The bathroom!!!!!!!!
The "master" bathroom in this house is not really a master bath. There is one full bathroom so everyone shares it. Off of the kitchen, there is a half bath, but that is a project for another time.
This is what the bathroom looked like when I purchased the house. It's not big by any means, but it is larger than what the picture leads you to believe.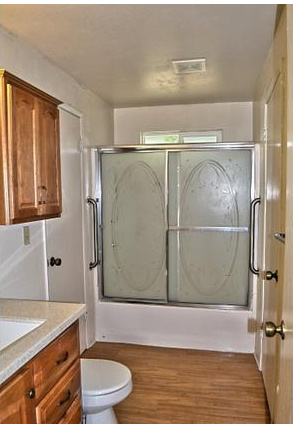 This bathroom is going to get a total makeover. This is the design plan:
Take out shower/tub combo and replace with a new tub (no shower door)
Tile shower and frame up storage in shower
Replace laminate with tile
Replace Toilet
Either Refinish vanity or build a new one
Take out the extra door (left in the picture) and frame up the wall
Shiplap the walls

Build new shelving for the linen closet
So all in all, it's a complete renovation minus ripping out the drywall. Fun times!
Since the bathroom is so boring and dull right now, I want to incorporate some color into it. Nothing too crazy, just something to give it some new life.
---
The Design Plan
Tile
Shower wall tile – I found this at Lowes and fell in love with it. It has perfect shades of blue, gray, and beige. It will give the shower just the right amount of needed color, but not overpower the bathroom.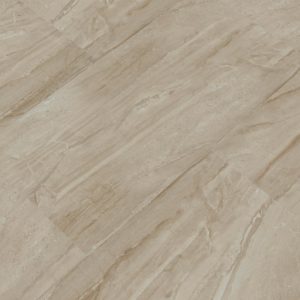 Floor Tile – I was looking for something in a lighter tone, but not full-blown beige. I found this at Home Depot and the greige color running through the tile perfectly matched the marble in the shower tile. Score! This is not marble tile, it is ceramic, but it gives the look of marble without breaking the bank.
Check out this tile HERE
Walls
I wanted something on the walls other than the textured drywall that is there now. iplap. t something that I have looked at a lot lately and really love the look of, itbut the premade boards can be a bit on the expensive side when doing a whole room. I am going to make mine out of 5mm poplar plywood. The strips will be 5 1/2″ thick and hopefully, it won't take more than four or five 4 x 8 sheets. There will definitely be a post on this process! I found a lot of inspiration by browsing the product available online especially on Amazon. The below products is linked HERE.
Tub and Shower Fixtures
I don't need anything fancy for the tub. I'll just get a standard left-hand tub in white. Where I will splurge is on some pretty shower fixtures. They, in my opinion, make the shower/ tub area more than the tub itself anyway. I came across these Jacuzzi Duncan controls at Lowe's and fell in love. They offer the shower control and a matching faucet for the vanity.
Bathroom Vanity
I haven't really decided on the route I want to take with the bathroom vanity yet and have definitely been on the search for design ideas. There is a bunch of inspiration on Pinterest and I have been pinning like crazy. If you want to check out my bathroom inspiration board on Pinterest, click the picture below.

Knowing me, I will probably just build a vanity, but no design plans as of yet. I'm sure they will be coming soon!
So there is the rundown of my design plan for the master bathroom. I will be adding more posts about the renovation as it's happening so stay tuned. It's going to be such a fun project to tackle, and the end result will just make me smile big cheesy grins every time I walk in there!
Talk to you soon!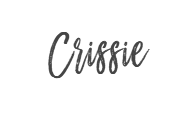 Pinning is always appreciated!