Hey all! To keep up with my latest projects, come follow along with me on Instagram and Pinterest.
Now that Christmas is upon us, it's time to start purchasing gifts for friends and loved ones (or yourself, I won't tell). I have come up with some great ideas for those people in your life who love DIY as much as you do.
These are all reasonably priced items that would make any DIYer jump for joy on Christmas morning. I have used all of the items in my list and they come with a high recommendation from someone who loves each and every one of them (I heart my tools!).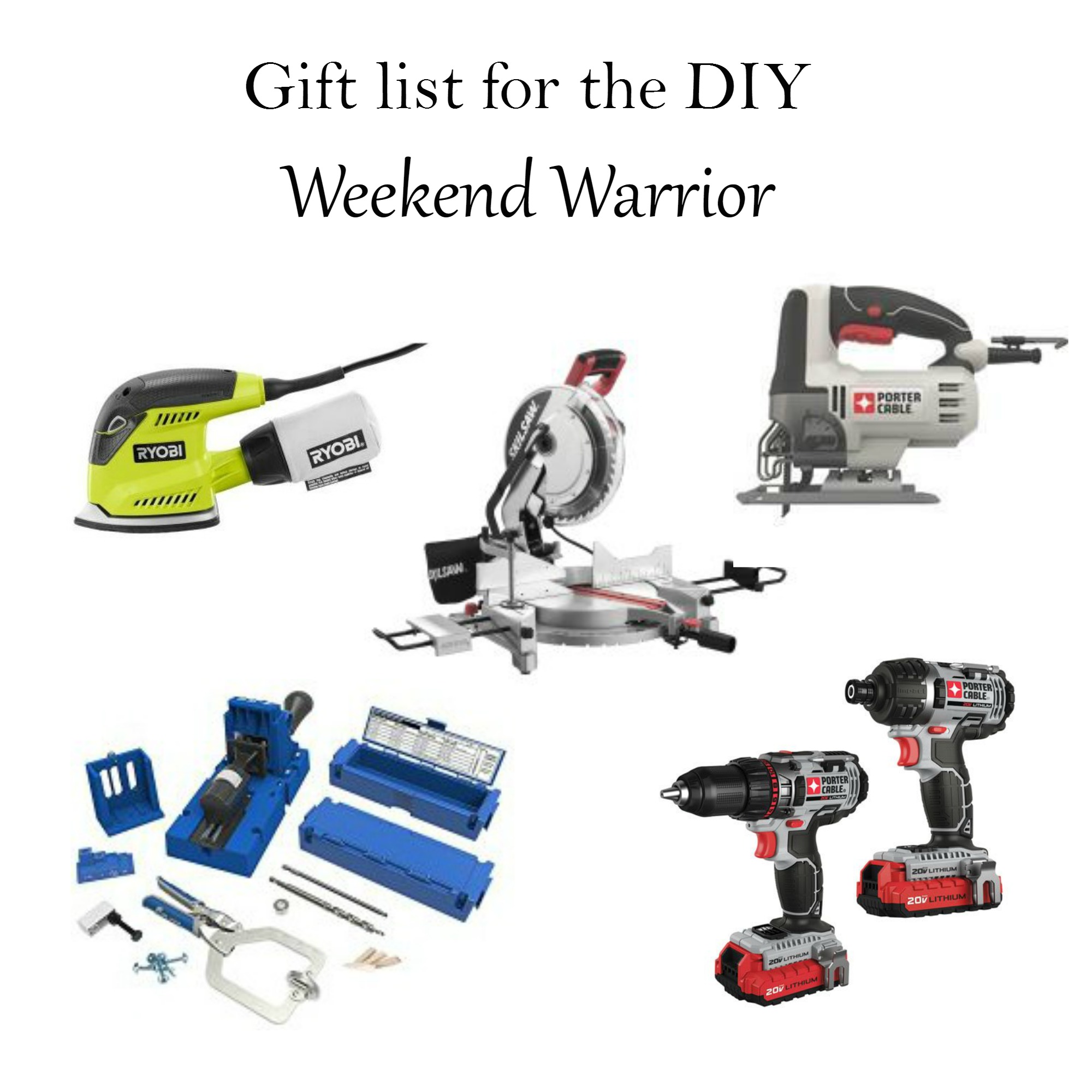 You can pick most of these up at your local hardware store, but I have attached my Amazon affiliate link to the items if you want to purchase online. Who doesn't love them some Amazon?? On to the list…
This blog post contains affiliate links. I may receive compensation when an item is purchased. This allows me to bring you more free content at no cost to you.
Ryobi Corner Cat Sander
This tool is great. It fits perfectly in the palm of my hand and it has so much power. Because of the size and the angled front, there are not to many places this sander can't reach. It is definitely on my must have list for tools in your workshop. To purchase just click the picture.
Porter Cable 20V Drill and Impact Driver Set
There is so much power in this set. Both the drill and impact driver are very lightweight and easy to handle. The impact driver is great for hard to reach places and boy does it pack a punch. Not many people need an impact driver, but I couldn't imagine my DIYing without one! To purchase just click the picture.
Kreg Jig K5 Master System
If you have visited my blog before, then you know this is a MUST have for me. I use this in most of my projects and I would not even dream of building 99.9% of my projects without it. For those of you new to the Kreg Jig, it allow you to use pocket hole joinery which is very strong and really fast to use. This machine will cut the finish time of most projects down incredibly. I love this and I have recommended it so so many friends and family. To purchase just click the picture.
SKIL 12-Inch Compound Miter Saw with Laser
The reason I am recommending this brand and type of miter saw instead of a bigger name brand saw, is just personal experience. I had my Skil miter saw for around six years and I never had a problem with it. It has lasted me through furniture builds, laminate floor installations, wood floor installations, molding, you get the picture. It worked really hard for me and that is why I loved it so much. It is a great saw to use for around the house and woodworking projects. To purchase just click the picture.
Porter Cable Orbital Jig Saw
A jig saw is perfect for those tight cuts you just can't get with a miter or circular saw. There are also many fun things you can do with a jig saw, such as cut out intricate shapes or cut out the center of boards. I use a corded jigsaw and it's what I recommend because of the power behind it. There are cordless models available that I have tried, and I always come back to the corded one. A fun addition to any tool lovers collection!
Well that's it for my DIY gift list for the weekend warrior. Don't get me wrong, I could make this list go on forever because there are so many amazing tools out there. These are just a few of the tools I use on a regular basis. I hope you find this list helpful and it has narrowed your Christmas list down just a bit.
Thanks for stopping by…
Crissie